Most girls don't know what they want to be. But I am not any other girl. I am hot. I am sizzling. I am bold. I have always wanted to be a model from ever since I was a little girl. But not just any model… I want to be the most erotic model… I want to be a porn star! I am 18 years old, a virgin but ready to turn your world upside down… are YOU ready for me?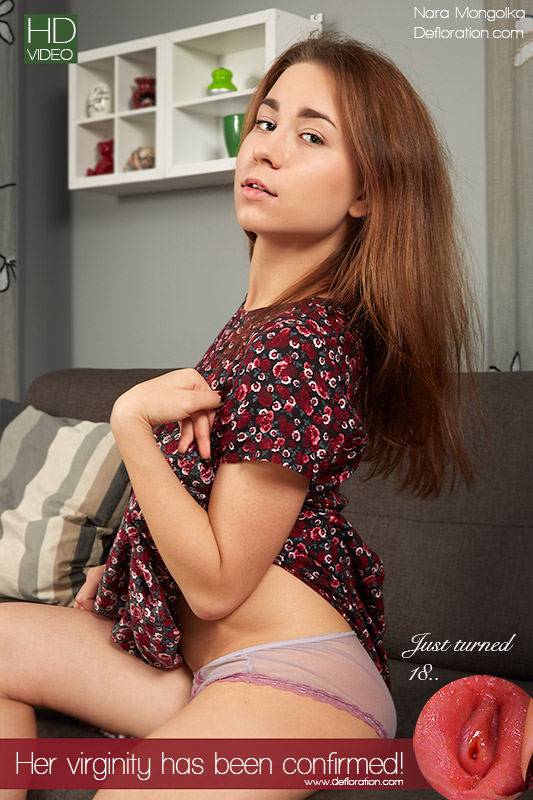 My name is Nara Mongolka and I come from Sochi, a beautiful seaside resort in Russia. Ever since I was a small child, I would run down to the beach as soon as school was over or in the morning after breakfast on weekends. My mother was the waitress in one of the restaurants near a beach. The owner, Alexei, was a distant relation of ours. My father had run away immediately after he knew my mom was pregnant and I do not know who he is or was.
My best and only friend in this world is Svetlana. She is the opposite of me. While I would lay down in various poses on the beach, she would read a book. She pretended not to see when sometimes I let my still unripe nipples appear over my bikini top in front of tourists. I would pretend my top came loose… sometimes I used to stand near a sun bathing couple, my bikini top slightly falling down as if unconscious of it and showing them my bare virgin teats…ready to be squeezed. From the corner of my eye, I could see that both the husband as well as the wife would be staring and I loved the attention.
In the evening, at home, I would tell Svetlana to also become naked and hold a mirror, looking at me, while I would masturbate looking at the reflection of my glistening virgin nub. If she sometimes refused, I would tear off her dress and squeeze her breasts. She would also shave my virgin pussy for me in the bathroom, applying shaving foam. Her fingers couldn't resist rubbing my tight clit once she had shaved me. She would then bring her head between my legs, spreading them wide. She would lick my clit, gently at first and then faster as she too got aroused, her round sweet breasts, brushing against my thighs and her wet vulva going up and down on my leg.
I loved posing in the front of the mirror. I can stand in front of it for ages, posing erotically, imagining the many rich, handsome men who would gift me diamonds and rubies. I love my body. I love my pink nipples…love to stroke them and make them erect. I imagine stroking and making a man's cock erect. It won't be hard I think. I will massage it up and down with my beautiful hands, rubbing my developing boobs against his nuts. I will moan with pleasure when he puts his masculine tongue into my innocent pussy. As I look at the mirror and dream about all these, my fingers keep going up and down slowly in my trembling, virgin vagina. With one hand, I clutch my round breast and the other hand continued moving faster and faster as I moaned and finally cum.
One day while waiting for my mother to finish her duty, Alexis beckoned me towards him. I was wearing a sweater with the picture of a horse over my left breast. As I reached near him, he rubbed his hand over my sweater, touching the horse, and said, 'What a beautiful picture'! This was the first time a man's hands had touched me, even if it was through the sweater. I enjoyed the feeling it gave me and I gave him a seductive smile. That evening, he came to our house with a hamper of goodies from the super market. My mother was astonished. While leaving, I accompanied him to the door, and he casually slid his hand inside my thin t-shirt. As usual, I was not wearing a bra and he squeezed my budding nipples hard, before leaving without a backward glance.
I was so aroused that I gave an excuse to my mother and ran down to Svetlana's house. I pulled her to her room and grabbed her dress off. I was already naked. As I lay on her bed, I made her make me cum. Rub me…lick me, I said. As her fingers rubbed my vulva faster and fast, my hands kept rubbing my ripening teats and I moaned and came suddenly with a rush. It was Svetlana who gave me the address of the studio. She was on the Internet and learnt about this photographer who was well connected with the defloration.com and could help in making me a big and famous model.
The video will tell you how I performed but I know I impressed the photographer. His cock was almost bursting out. As I posed, I wished he would pull it out but he did not. I had to prove my virginity and I could proudly show him my pink intact hymen, just waiting for the right man. I lived my dream in this studio, posing provocatively…erotically… I am ready for more! I want to be a star!
WATCH HER HD VIDEO HERE: www.defloration.com