Hello, My name is Mirella and I am just 18. Since I was a little girl, I wanted to be a model.
I would dress up in my mother's gowns and pretend I was in a
beauty pageant, complete with flowers I had picked from the garden and a tiara that was once part of a child's costume. I pictured in my mind walking down that runway to take my award. I perfected that pageant walk and that pageant wave and of course, I was most talented at blowing kisses to my adoring fans.

As I entered my early teen years, I watched as Kylie Jenner began her modeling career and her Kardashian sisters as they shook the fashion world off its axis with their progressive and provocative fashion line. I devoured any magazine that featured Kim Kardashian and copied some of her designs as I made replica's of her fashions on my grandmother's sewing machine. I copied Kylie Jenner's makeup and grew my hair to be long and silky like hers. Now, it almost reaches my ass and to take care of it takes hours of dedication every week, but it is worth it as I consider it my crowning glory.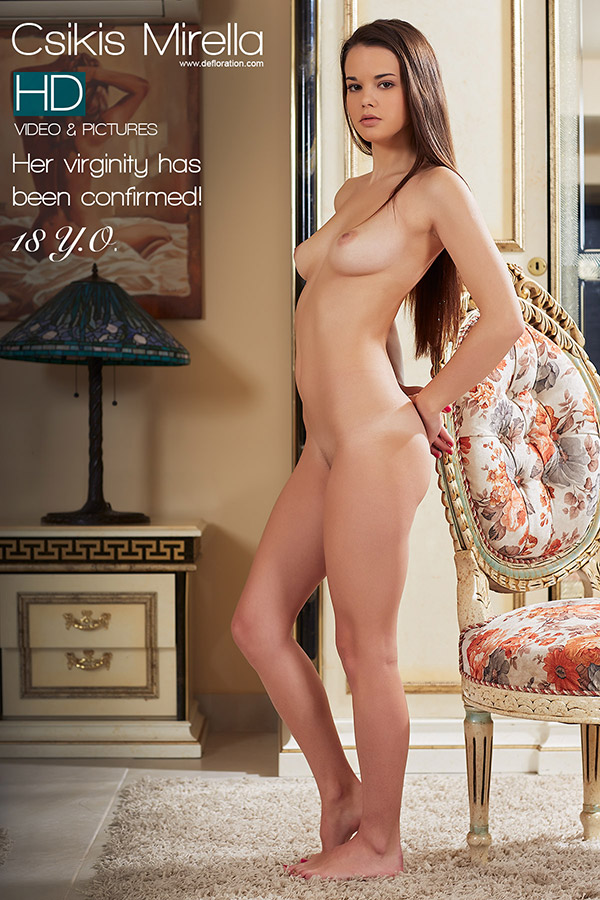 When I was 17, I auditioned for a modeling agency and was accepted as a client. My dream was to become a Kardashian, well, a Hungarian version of a Kardashian. But i wanted the fame and attention that was lavished on them by their adoring fans, myself included.
As soon as I turned 18, my agent told me that I could make a lot of money by posing nude. I had never posed nude before, well, not really, but for the last year, I have spent warm summer evening splayed out on my bed, in full naked display for the pleasure of my neighbor and for the fantasy of myself.
The neighbor next door is a young business man. I first caught his eye as he caught mine, while I was sunbathing in my yard and he was working in his yard. He caught my eye when he stripped off his shirt soaked with sweat to reveal a finely toned abdomen with a seriously cut 'V" that led to a happy trail of hair pointing the way to his cock that created quite the bulge in his shorts that almost poked out of the hem around his fit and toned legs.
His skin glistened with sweat and his hair had lightened from time spent in the sun. His skin almost glowed from its time in the sun and without realizing it, I was staring at him, licking my lips and the thought of what he could do to me with that package in his pants. He caught me starting at him as he lazily looked me over from top to toe and back up again, resting his eyes on my breasts.
Our eyes finally met and his eyes were giant pools of green emeralds that reflected the rays of the sun. As our eyes locked on each other, I sat up straight in my chair and reached behind me as I leisurely unfastened my bikini top and removed it so he could feast his eyes on my perky, upturned, firm and full breasts. At first I thought I was quite imagining things, but hat impressive bulge in his shorts became even more impressive as it thickened and grew in length until the head of his cock poked out from the hem of his shorts and I could see the droplets of pre-cum form at the bulbous head of his cock and glisten in the sun.
I suppose I should have been ashamed, stripping for my neighbor and enjoying the sight of his growing cock in broad daylight. But I wasn't. I was aroused and I felt myself getting wet. He grasped the head of his cock which had poked even further out from the hem of his shorts and rubbed those glistening drops around its head which was expanding (as if that was even possible) and becoming red and angry looking. My eyes never left his body and seeing nobody else around, I shimmied out of my bikini bottoms so that I was completely naked and I started to rub my clit. At first I rubbed slowly and as my neighbor dropped his shorts to the ground and made known to me just exactly how impressive his erection had become, I felt my shaved pussy lips start to swell and my fingers began to pick up speed as my wetness grew and I began to moan. At this point, I cared nothing for the possibility of being caught. My pussy was throbbing at the sight of him stroking his cock and I imagined how it would feel to have something that large in my virgin pussy. Our moans became louder as we chased our releases and at almost the same moment, we both climaxed, his cock shooting out long streams of cum as I threw my head back and practically screamed my orgasm.
As I brought my head back down, my neighbor casually picked up his shorts and shirt and strode back into his home as if nothing had just occurred, much less the hardest and longest orgasm I'd had since I discovered my nub of pleasure several years earlier.
I didn't see him again for a few days until late one hot summer's evening. I had returned from a party with friends and I was hot and sticky from a night of dancing. I took my shower, wrapped a towel around me to dry and I walked into my darkened bedroom.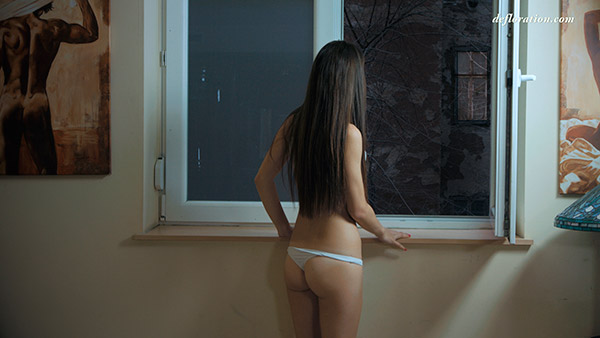 As I opened the window, I noticed a small light in the window of my neighbor's home. I'd never noticed it before, but the windows of my bedroom looked out across the windows of my bedroom. He caught me staring at him through our open windows and he stopped short and dropped the towel from around his waist. He was still slightly wet from his shower and as I watched his cock grow as he stared at me, I dropped my towel. We stood there transfixed fro a few moments and then, just as in the garden, he began to stroke himself as I began to stroke myself and as he reached his orgasm, this time, his cum flew out the window into the yard and I could smell the scent of sex and of him hanging in the milk breeze of that hot summer night.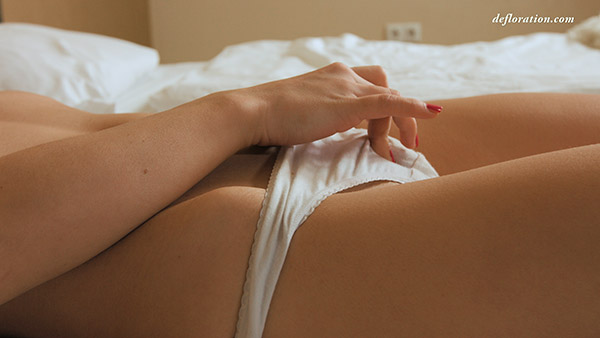 Since then, we have had many mutual masturbation escapades at night from our beds that look over each other. We have never spoken and yet, we continue to pleasure each other without the touch of the other. When the weather turns cold, our windows remain closed, but I'm sure I can hear him growl his release each night as I release my orgasm.
My agent sent me out for my first nude assignment last week. I was introduced to the photographer who was insistent with my agent and me that I must be a virgin or I would not be suitable for the job. I was no virgin to my orgasm and I had never had my mouth on a man or a boy and no one had ever touched me, so, while my dirty mind was no longer a virgin, my pussy was and that was all that mattered.
I was a little nervous at first, in fact, aside from my display of my body to my neighbor, posing nude was a little scary at first. Then, the photographer asked me about my fantasies and then offered me more money to masturbate for him on camera. That was easy. I'd been masturbating for my neighbor for almost a year by now, certainly I could replicate my fantasy for his camera!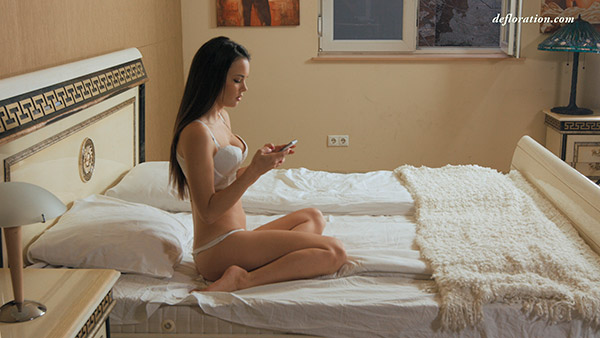 I laid down on the bed and began to think of my neighbor and soon my pussy was dripping and I feared that I would drench the bed as my orgasm took over and I cried out in pleasure.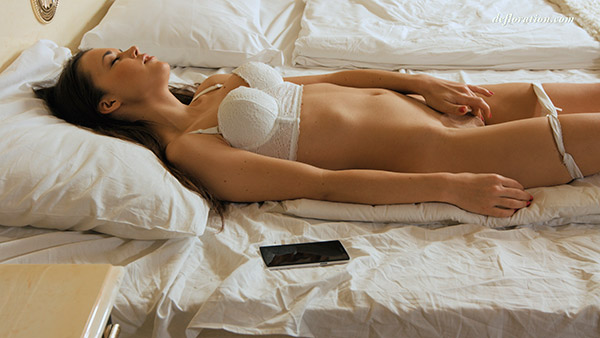 When I was done, I excused myself to the bathroom to clean myself up and while I was wiping my wet and swollen pussy, I felt the beginning of a new orgasm and I could not resist, so while sitting on the toilet, I made myself come again.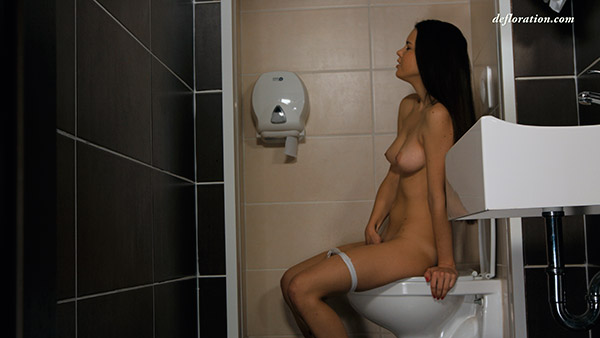 I'm sure the photographer heard me as when I returned to the set, he had a cuter blush on his face. He knew exactly what I was doing in there!
As I dressed to return home, he told me how I could make even more money by selling him my virginity. He mentioned Thomas Stone and as any young girl in Hungary, I knew exactly who he was talking about. Who wouldn't want their virginity to be taken by Thomas Stone! So, I eagerly agreed and returned home to my neighbor and our mutual orgasms until the day, Thomas Stone would take my virginity.
YOU CAN WATCH HER "LOSING OF VIRGINITY" VIDEO HERE: www.defloration.com
Please share my story!!!