Mirella's StoryPart 2
BeforeI left the studios, the producer gave me several DVD's of videos that he had produced of Tommy taking the virginity of other models. He told me to study them and to recognize the format that the taking of my virginity would follow.
I was not new to watching porn, there are very few girls my age who have not watched porn. My girlfriends and I tease them and call them losers and mock them. But, I had never seen a Thomas Stone video where he took a girl's virginity.
Most of the girls I saw were meek and shy. They giggled when he introduced them to his cock and he was gentle with them. I'd been reading the blog posts and virginssecrets.com and had some idea of how the experience had gone both fromTommy's perspective and from the other virgin's perspective. After watching the videos, I now knew why they call Thomas Stone "The Virgin Whisperer." Some videos were short and others were longer. I had been told by the photographer that the length of the video was not determined by him, but by the very real action that was happening in the video. Sometimes it did not take long to get the girl ready to be penetrated, and sometimes it took longer. If the girl was having multiple orgasms, and both Tommy and the girl were really enjoying themselves then it was Tommy and the girl who made the decision to continue their fucking. It was all very spontaneous and very little editing was done.
I also recognized several of the girls as being current porn superstars like Gina Gershon and Candee Liscious! They are both very nice girls and they do quite well as stars, but here, staring me in the face was my opportunity to achieve the fame I had dreamt about for so long. I decided immediately that I could be a porn star too and be the very best there could be.
I spent that week watching as many porn videos as my budget would allow. I wrote down things that were erotic and things that were not so erotic. I watched how the men would position the women to get the best shot for the camera and I studied the facial expressions of the girls as they were fucked. I paid attention to the phrases the girls would shout out and I paid attention to the noises that Tommy would make when his orgasm was close. By Saturday evening, just a day before I would lose my virginity to Thomas Stone, I had a plan that would create the most outlandish and the longest video in defloration.com history. I was going to be a porn star and this little video was just the beginning!
I not only got my fashion sense from The Kardashian girls, but I also watched how they treated their men. They were princesses through and through and they never let their men forget it. Everything they did to their men showed their superiority and their men followed them around with their tongues hanging out and drool escaping their mouths. That is exactly as how I was going to play Tommy. I would be the virgin he would never forget and I'd be the very best virgin he had ever deflowered and it was all going to be under my control.
I arrived at the studios a few minutes late. The photographer seemed to be a little put out by my tardiness and Tommy was already there and waiting. But The Kardashian girls always kept their men waiting and the men enjoyed it. Why should this be any different. I'd brought my camera and selfie stick to take picture for my IG account. I knew that all my future fans were going to want to see all the behind the scenes action of my first porn video!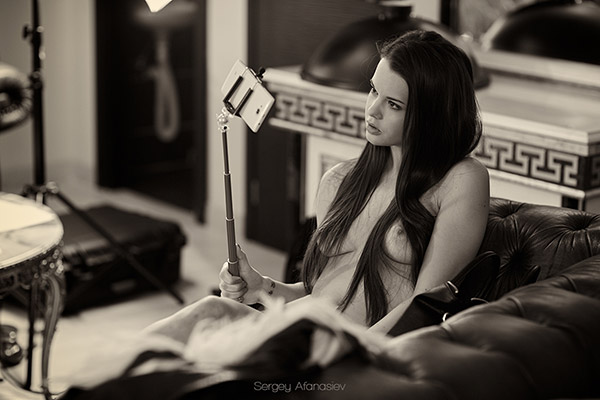 The makeup artist did a nice job and soon it was time to begin the filming. I was not going to be a meek and quiet virgin in this video like all the rest. This was my video and it would be the best video this studio had ever seen!
I was a merciless flirt with Tommy, letting him get close enough and then pushing him away because "I was shy". Sometimes it was difficult to maintain my hair and body position to be most favorable to me, but I am pretty sure I managed to keep my best side presented at all times and my flowing hair looking beautiful.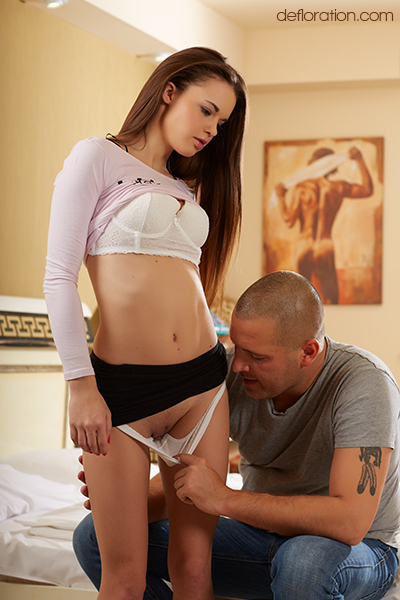 After a while, Tommy seemed to become frustrated with the seduction game I was playing and pulled me to him and kissed me forcibly. I called him violent, but he said that it was they way I liked it and to be honest, I did, but I could not let him in on my secret. I had to keep playing this game I had learned from watching so many episodes of Keeping Up With The Kardashians and keep this video going so that it would last longer than any other video.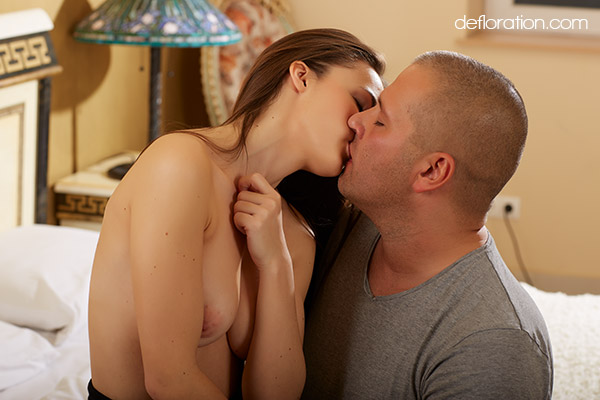 When Tommy presented me with his cock, I giggled and blushed like every other girl and pretended to fawn all over it. After all, in the other videos it seemed to be his pride and joy and he really got off on girls being intimidated by its size. So, at first I timidly explored it, but it wasn't my first blow job and certainly wasn't going to be my last, so I gradually got into the scene of giving him the obligatory blow job, but after a while, I was eager to have the camera turn its attention to me because this was my video, my first scene in the porn industry and at that point I wasn't getting the focus that I felt I should have.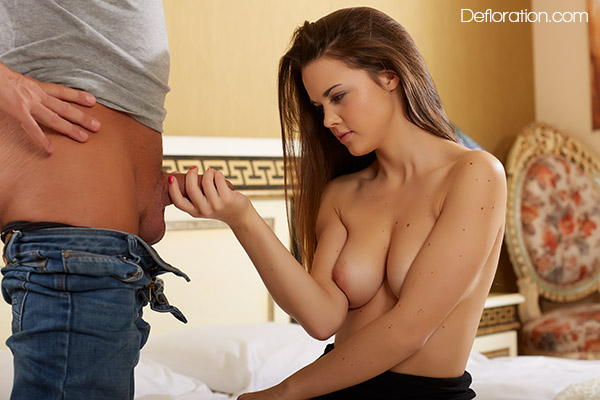 But before we could get to him taking my virginity, he wanted to eat me out and that was okay. I was very wet, he did turn me on, well sex turns me on, but since it was his tongue and his fingers playing with my clit, Tommy was turning me on. He was easily able to insert a single finger into my pussy without breaking my hymen and while he quickly stroked his finger in and out of my tight hole, the tip of his finger was massaging what I was assuming was my "g" spot and I never wanted him to stop. It felt so fucking good, but I had learned that if I denied my orgasm, it would increase the pleasure both for me and for him when we finally came, so I pushed him away, continuing to play my game of seduction in my desire to make this the best video ever!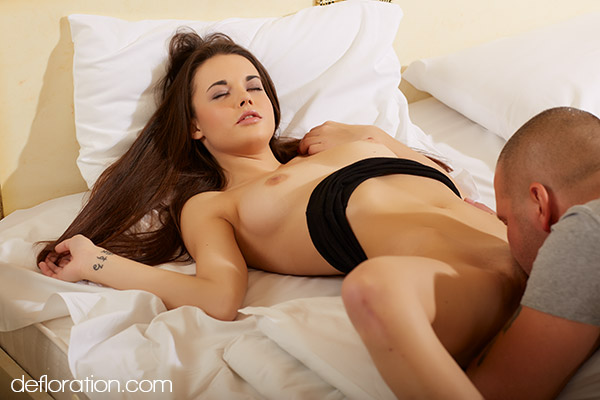 Finally, after he got me sufficiently wet for him to break the seal of my virgin pussy, he tore through my hymen and seated himself balls deep into my vagina and I could feel his hot and swollen head pushing against my cervix. He didn't move,he just stayed still to allow me to adjust to his girth, but I wanted him to move so I could feel him moving inside of me. That little bite of pain I felt when he first entered me was addictive and I wanted to feel it over and over again. When he finally began to move within me, I pretended that I was in a lot more pain than I really was as that is what the other virgins had done in the past. But far too quickly, they gave over to the pleasure of being fucked far too quickly for my goals and so we continued to fuck in different positions so that I would be more comfortable. I could have easily come several times as we changed the positions, but that would have cut the video shorter than what I wanted it to be. I think he got frustrated with me because I would not come. He said that most women usually come for him at least twice by that time, but I am not most women and I would not come before I was ready to come and ready to finish the video.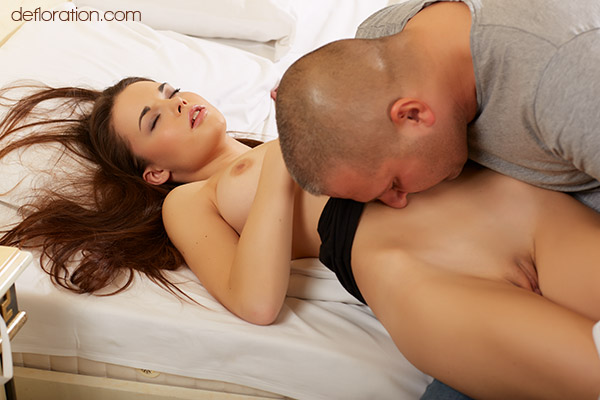 Finally, he asked me to suck his cock for a little bit before we changed positions again and I obligated, for a while and then we went back to fucking. I'd actually been enjoying the fucking I was getting and I enjoyed bringing him to the edge and stopping short of releasing my pleasure for him and to him. I had thoroughly enjoyed playing this game of seduction, but we had been fucking for a long time and just as I had decided to release my first orgasm, he pulled out and came all over my ass. WTF? Tommy always made sure the girl came first! In every single fucking video, the girl always came first. And while I wasn't ready for the cameras to stop rolling, stop they did and the session was over. Before I knew it, Tommy had showered and left, the producer had turned off the lights and had paid me a very nice fee for the video and was urging me to pack up my supplies and leave.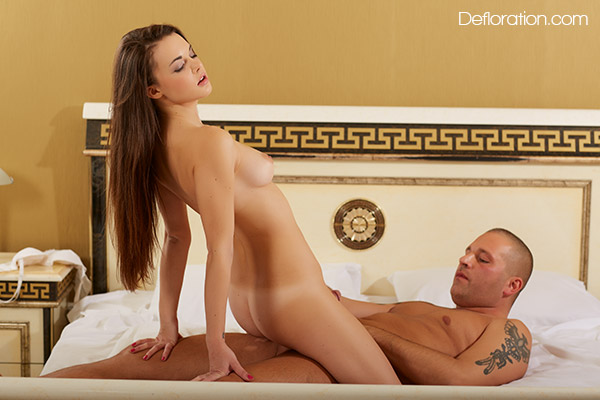 I was disappointed that while the video was quite long in length, it was over before I even got started with the good parts of my plan. I did not understand. This was my debut and I wanted to make it the best video ever shot! I know that the positions and my constant primping put my beauty on full display, but the lack of my orgasm on camera was quite disappointing.
Oh well, when the video is properly released, I will anxiously be studying it so that I can improve on my performance. I'll be excited to see the finished result and to study it for clues. Anyhow, that video us done and as a new porn star rising in popularity, there will be other times for other orgasms, but for a first film, I find the video fucking fantastic!
I hope you enjoy this video as much as I enjoyed making it. I had a great experience and this is a great start to my stardom!
YOU CAN WATCH MY FULL-LENGTH VIDEO HERE: www.defloration.com
PLEASE SHARE NY STORY!!!