Hello.  My name is Mirelle and I am the latest girl to lose her virginity to Tommy Stone and the cameras at Defloration.com.  By now, I'm sure you've seen the video and read all about it from Tommy's point of view, and I've tried to be silent, but his description came no where near the accuracy of what really took place and I have to tell you the truth, the whole truth; every last single second that incredible cock of his was in my pussy.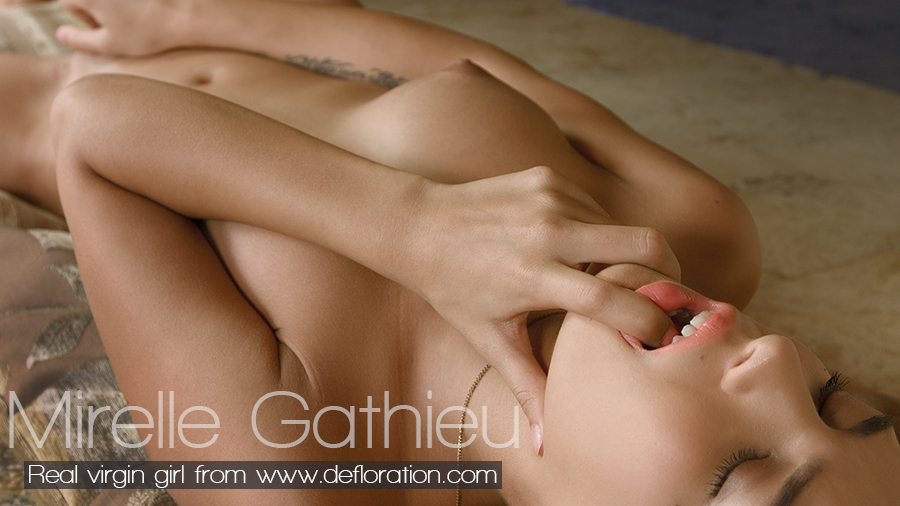 All my friends know about Tommy and his incredible skill at deflowering virgins.  It is difficult to be anywhere in Eastern Europe and not know of The Virgin Whisperer.  Quite simply, Thomas Stone and his magnificent cock are what legends are made of and the reality of him, it does not disappoint.

I had been planning since I had first seen one of his Defloration videos that he would take my virginity.  I was nothing short of obsessed over Tommy taking my virginity; it was what I desired, what I dreamt for and what I planned for.
I watched every single video I could get my hands on and thank to my older brother's subscription to the site Defloration.com I had full and complete access to every virgin Tommy had ever taken.  And, the second I turned 18, I contacted the producer and told him I was willing to sell my virginity to the cameras.  I did not mention my obsession with Tommy for fear that he would have assigned me to Renato or another Tudor in the stable.  For me, it was Tommy or nothing.
I don't know what I would have done had the producer rejected me, or perhaps discovered that Tommy was my plan after all; but I kept positive thoughts going, I was always prompt in answering correspondence and attending meetings. I flirted appropriately with the producer and before I knew it, I was signing paperwork and was scheduled to lose my virginity to Tommy, the following week.
All was going to plan and I went to bed every night, rubbing one out to thoughts of Tommy Stone's hard, throbbing cock breaking through my tight virgin pussy and masking me a woman.  That is until the day before.  The day before was a beautiful day in Budapest; warm, but beautiful.  I woke up and laid there for a few moments as I eagerly recounted in my mind what tomorrow would bring.  I'd planned this Defloration for almost 2 years; my mind hanging on every word and every movement that Tommy had made as he deflowered countless virgins.  I'd spent two years dreaming of how his cock would fit in my pussy and how it would feel to have an orgasm under his expert hand.  I wondered how hot his cock would feel in my body and how it would feel as he reached his orgasm.  And, I shot out of my bed and barely made it to the toilet before I tossed the contents of my stomach. As I breathed rapidly, trying to prevent further emptying of my stomach, I wiped my hand up over my head, smoothing my hair down onto my sweaty brow and shook from the breeze coming across my sweaty body.  The day I had planned for;th day I had waited for was finally here and I was fucking scared!  I've always been brave and bold, daring even. But now, reality was crashing all around me and I suddenly realized the enormity of losing my virginity to  Tommy Stone; The Virgin Whisperer.
As I let the water from the shower sluice over my body my hands followed its root towards the drain over my nipples and down further to my pussy.  My fingers pinched my nipples and rolled them until they were hard and pebbled and the lazy ache between my legs began to burn and demand its release as I continued to pleasure myself. I pictured Tommy in my head and the familiar tightening of my pussy started clenching, seeking Tommy's missing cock, and I came hard against the edge of the shower.  I was just barely sated, the fantasy of Tommy's cock was barely hitting the target the closer it came to my Defloration. But one thing was for certain; I was no longer afraid or nervous, I was ready.
I showed up that morning wearing my tightest white jeans and the sexiest thong I owned.  I entered the shooting location with great confidence, met with the photographer, took my top off and let my boobs fly free.  The slight breeze and the sight of Tommy off to the side, set me on edge and my nipples reacted and began to pearl to their hard points.  I confidently strode over to Tommy to introduce myself and when I took his hand in mine to shake it in greeting, I felt the thrum of his essence pass from him to me and all my confidence disappeared and I was rendered speechless.  I was suddenly aware of my nakedness and became very, very shy and mute, not at all like the saucy confidante ready to give her virginity over to her dream star.  In fact, about the only thing I was capable of doing was flipping the producer the bird as I signed over the paperwork just before we started filming.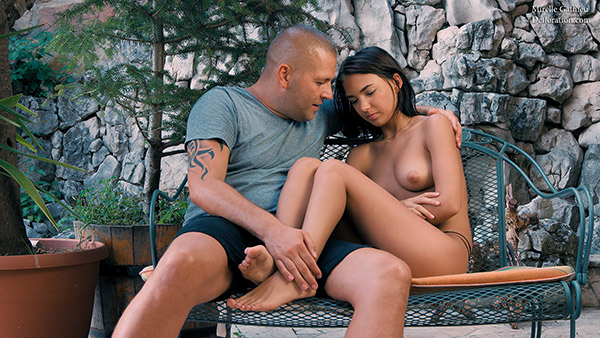 The start of things barely registered on my consciousness.  I was aware of Tommy's kisses and how his hands felt on my body; his fingers were warm and his skin was soft, but at the same time was rugged as if he did his own work around the house.  When he finally revealed that majestic cock of his; the object of my long term lust and affection, I wasn't quite sure what I expected.  It was hard, hot and his heart beat through the veins that added dimension to it.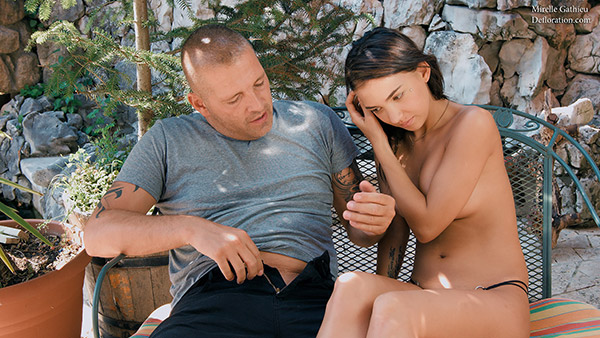 The heft of it was a surprise.  I'd blown a couple of boys in school, even the most virginal of girls had, but I'd never felt or held a cock so heavy in my hands before. And the skin was the softest skin I'd ever felt making my baby brother's bottom seem like sandpaper.  I was entranced by it all and intimidated by it all as I slowly put that wide, lush head of it in my mouth.  I could feel the beat of his heart as it pulsed against my tongue and my mouth began to water and his cum began to seep.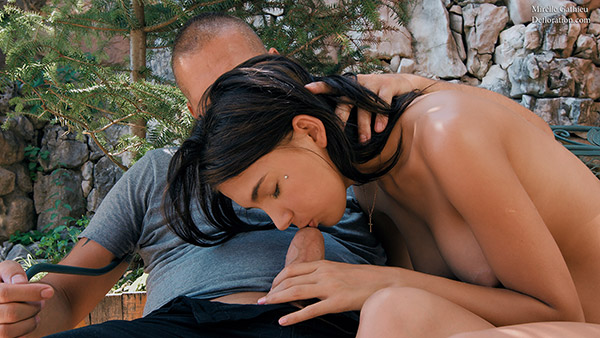 My nose was right there where I could smell his masculinity and that smell combined with his cologne shot desperate need to my pussy and I couldn't wait any longer to have him inside of me and I guess the feeling was mutual because he could no longer wait to be balls deep in my hot, tight, virginal pussy.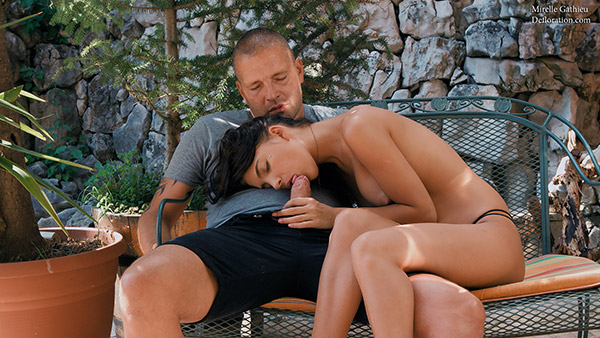 He convinced me that doggy style was the best way to accomplish the task at hand and in retrospect, it was.  It just burned like a mother—-ER!  Shit, I was not expecting that!  Yes, I've seen the girls cry in the videos, but honestly, I could not see how it could possibly HURT THAT MUCH!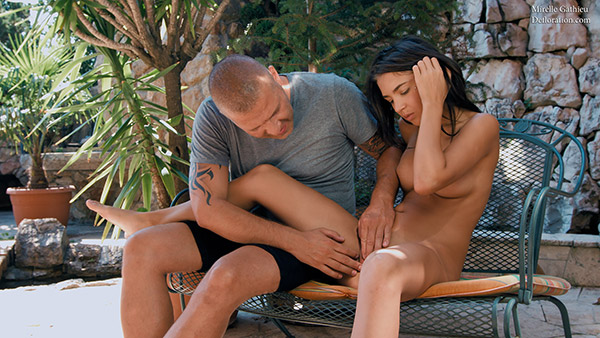 But it did; he ore right through that membrane and then he stopped and allowed me to have a moment to adjust to his size.  While he held still, I could feel my pussy expand and form around his cock.  I was aware of how very full I felt, as if there was no room in my pussy for anything, much less a condom. How those girls do DP was beyond me at that moment!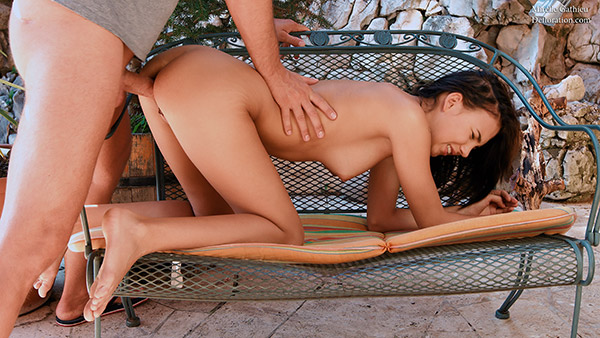 Soon, he pulled out and showed my newly destroyed hymen and my pussy filled with cool air.  I didn't like the empty feeling, I wanted him back in my pussy and I wanted to feel the heat of his cock as it slid back and forth seeking it orgasm and bringing me to mine.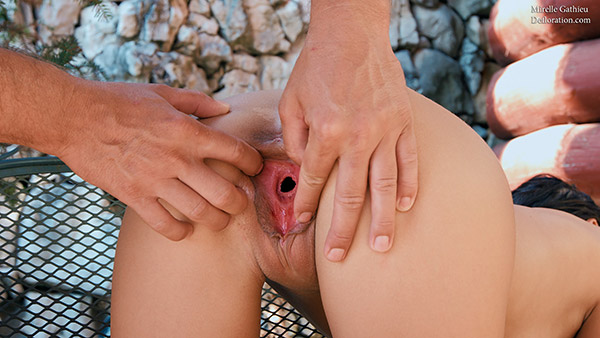 It was still a little painful as he began to pound into me; but every stroke, every hit of his pubic bone against mine took away pain and began to infuse my body with the most pleasurable of sensations, far more pleasure than I had ever brought to myself.  And then we changed positions and within a few strokes, I could feel the change and any pain or discomfort that I had been feeling was completely gone and it was all about pleasure for both Tommy and I.  His cock slid in and out of me and each thrust showed me how silky his cock was.  I could feel his heat as the sides of his cock slid against the walls of my pussy.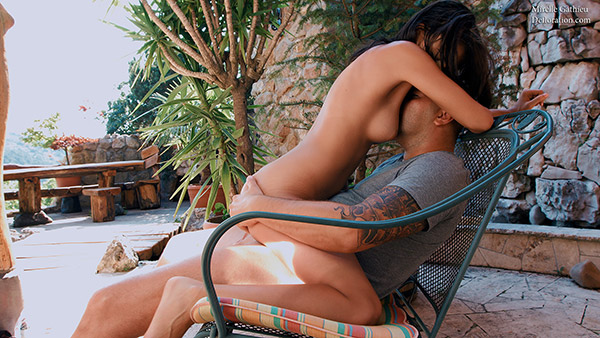 I could feel as his head touched against my cervix which set off fireworks of pleasure that coated my pussy.  I could feel his cock as it would jump in my pussy and I could tell he was getting close; hell, my pussy was getting close, clenching and unclenching against his cock and then I felt it, the beginning of an orgasm unlike anything I had ever felt before and as my body let go and climbed that mountain of pleasure, he pulled out and blew his sperm clear across the lounge and onto my shoulder.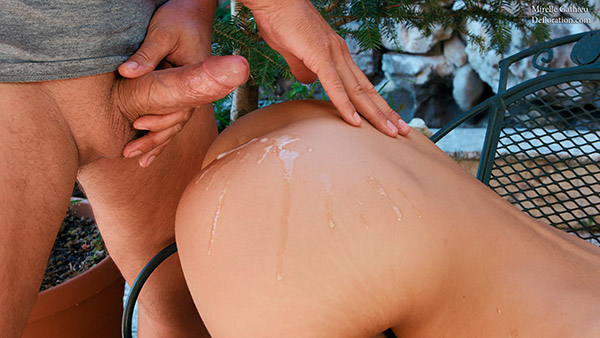 I'd never seen Tommy spray his baby butter so far before!  And he was quite taken aback by the power of his orgasm.  My pussy was still quaking with pleasure while I inspected the remnants of his pleasure and the camera's stopped rolling; leaving Tommy and I to bask, alone in our orgasms.  I never knew it could be this good, or I might not have waited until I turned 18; but if I had, it would not have been Tommy who brought me such pleasure.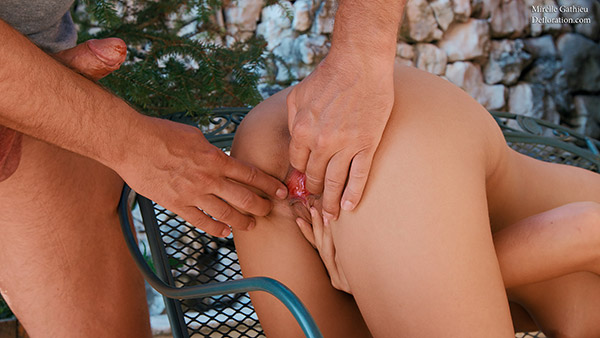 Our session was over now.  Unless I went into the business, there would not be any more Tommy for me; I'd just have to find some special boys in my neighborhood because, now that I have lost my virginity, I am going to take every opportunity to have sex again.  I loved everything we did.  Including when Tommy popped his thumb into my asshole.  OMFG!  That was a fucking incredible sensation; I felt full, very full and it was the most erotic and yet luxurious all at the same time; my nerve endings were firing at rates I could not comprehend and that I did not want to stop.  So, sadly, for now, those feelings make me desirous of finding out just how very good they can be and maybe, just maybe, you will see the scene where I get to fully entertain those other amazing feelings.
Until then, I have been very well fucked; I enjoyed it immensely and I can't wait for more.
YOU CAN DOWNLOAD MY FULL-LENGTH MOVIE HERE: www.defloration.com